Saving one animal will not change the world, but for that one animal the world will change forever.



Yapper's Web Page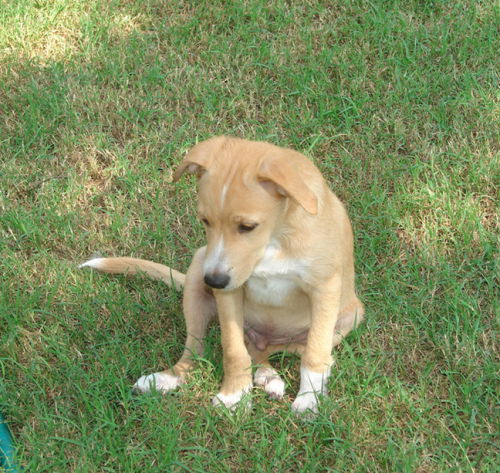 Description:
I'VE BEEN ADOPTED!
UPDATE: Yapper had parvo, but he was treated at the vet clinic and is back home recovering. He was there for 5 days, so he has a big vet bill now. We are going to have to raise his adoption fee a little, it won't be enough to cover the whole bill, but it will help. He will be fine, he will not ever get parvo again, his body made lots of antibodies to fight the parvo.
Hi my name is Yapper, I am a male golden retriever/lab mix puppy about 7 weeks old. I was rescued from the pound on the day I was to be euthanized. I had to be quarantined for 3 weeks because I had ringworm and all I could do is yap for attention.
I strut around full of life and happy to be played with. I am very gentle and play well with other animals. Will you let me come play with you?
Yapper is up to date on his shots and is parasite free. His adoption fee will be $75 with a $50 refundable deposit because he is not yet fixed.
Please call to make an appointment to see him, or look for our next Adopt A Pet date on our Petfinder home page.
Pets For Life Rescue has decided as a group not to ship our pets, the prospective owners must be able to come see the pets in person.
Please follow this link to our Adoption Application .
Breed:
Labrador Retriever / Golden Retriever / Mixed
General Potential Size:
Large
Other Pictures of Yapper (click to see larger version):


276.9k